Pilot Competition in CZ - on June 17, 2010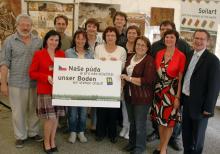 On June, 17 the final event of the pilot competition "Painting with the Colours of the Earth" took place at the SLAVONIC CASTLE SITE AT MIKULCICE, a remote department of the Masaryk Museum of Hodonín. About 250 persons, children, parents, teachers and honorary guests from the region of Southern Moravia and from Lower Austria were celebrating the winners.

Dr. Erwin Szlezak from the Department of Rural Development of the Lower Austrian Provincial Government handed over to the winners of both categories of the competition (10 to 15 and 16 to 19 years old) a voucher for a journey to St. Poelten, including a visit of the governmental quarters and the Lower Austrian Provincial Museum. The organization of the competition took place under the guidance of the Czech EU project partners of the Masaryk Museum, Director Irena CHOVANČÍKOVÁ, supported by Dr. Frantisek Synek, the leader of the remote department, and by Prof. Irena Racek, who is also responsible for the artistic supervision of the soil colour project on the Austrian side.