FFG: Focus on Europe and International Affairs 06/2021
With 95.5 billion euros over seven years, Horizon Europe is an important signal at the right time. After more than 40 online events with more than 6,000 participants, the final go-ahead for the world's largest research and innovation programme was given last week:
Austrian government members (Heinz Faßmann, Leonore Gewessler, Elisabeth Köstinger,
...
weiterlesen »
---
European Research & Innovation Days
ONLINE-Event on 23rd and 24th June 2021


Let's shape the future together

European Research and Innovation Days is the European Commission's annual flagship Research and Innovation event, bringing together policymakers, researchers, entrepreneurs and the public to debate and shape the future of research and innovation in Europe and beyond.
The event will take place
...
weiterlesen »
---
Horizon Europe Community
ONLINE event on 22.03.2021, 10:00 - 12:00

Horizon Europe: Shaping our future!

Political expectations for the EU Framework Programme for Research and Innovation
Register for event - Event registration closed
UPDATE: Join our Community: Horizon Europe full steam ahead!
The event "Horizon Europe:
...
weiterlesen »
---
Project Loess Paleosol Map of Lower Austria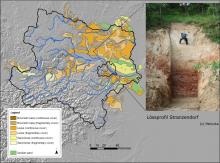 Lower Austrian soils on loess substrates have a high silt content and, although prone to erosion, are particularly well suited for viticulture.
Significant archaeological finds are repeatedly made in loess deposits, and they also reveal important climatological or environmental-historical information.
Picture:
...
weiterlesen »
---
Nutrient dynamics in soils of Lower Austrian agricultural landscapes
Supported by the Lower Austrian Landscape Fund (LAFO)
Christian Holzinger, B.Sc.1,
Walter Wenzel, Univ.Prof. Dipl.-Ing. Dr.nat.techn.1
1 University of Natural Resources and Applied Life Sciences Vienna, Institute for Soil Research, Konrad Lorenz-Straße 24, A-3430
...
weiterlesen »
---
Archiv:
1
2
3
4
5
6
7
8
9
10
11
12
13
14
15
16
17
18
19
20
21
22
23
24
25
26
27
28
29
30
31
32
33
34
35
36
37
38
39
40
41
42
43
44
45
46
47
48
49
50
51