SONDAR Field Trip to Angern/Stillfried, Niedersulz and Kleinweikersdorf
On July 5, 2012 a field day took place to the possible target area of the project within the framework of the SONDAR CZ-AT project with the support of the Lower Austrian Government, Department of Rural Development. In the morning, the impressive soil profiles
...
weiterlesen »
---
Soil Art joins the youth in the Danube countries!
Within the course of the Danube Countries Youth Conference, implemented on July 4, 2012 by the Lower Austrian youth council and the Working Community of Danube Countries in the parliament hall in St. Poelten, a large number of young people from the Danube
...
weiterlesen »
---
SONDAR: Invitation of Czech and Slovakian Representatives of Municipalities to the Member Region of the Soil and Land Alliance of Lilienfeld!
On Monday, July 2nd, 2012, Czech and Slovakian representatives of various municipalities in the region of the White Carpathians were invited to the district of Lilienfeld. The participants were offered a
...
weiterlesen »
---
A Day in the Prehistoric Museum for the Winners of the 2012 Cross-Border Painting Competition "Painting with the Colours of the Earth"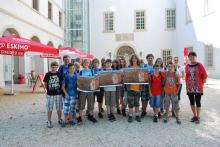 The winners chosen by online voting of the cross-border painting competition "Painting with the Colours of the Earth" of category 1, the Blindenmarkt Secondary Modern School, were invited to visit
...
weiterlesen »
---
Municipal Soil Conservation Mandatories within the Framework of SONDAR: Soil Conservation Training Course of the Climate Alliance Austria
Vienna (June 26) - 14 municipal soil conservation mandatories have been characterized at Seeham in Salzburg
Christina Trah and Klemens Rybaczek attended the training course within the framework of the cross-border SONDAR project. They have
...
weiterlesen »
---
Archiv:
1
2
3
4
5
6
7
8
9
10
11
12
13
14
15
16
17
18
19
20
21
22
23
24
25
26
27
28
29
30
31
32
33
34
35
36
37
38
39
40
41
42
43
44
45
46
47
48
49
50
51
52