Project Loess Paleosol Map of Lower Austria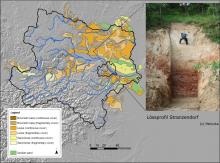 Lower Austrian soils on loess substrates have a high silt content and, although prone to erosion, are particularly well suited for viticulture.
Significant archaeological finds are repeatedly made in loess deposits, and they also reveal important climatological or environmental-historical information.
Picture:
...
weiterlesen »
---
Nutrient dynamics in soils of Lower Austrian agricultural landscapes
Supported by the Lower Austrian Landscape Fund (LAFO)
Christian Holzinger, B.Sc.1,
Walter Wenzel, Univ.Prof. Dipl.-Ing. Dr.nat.techn.1
1 University of Natural Resources and Applied Life Sciences Vienna, Institute for Soil Research, Konrad Lorenz-Straße 24, A-3430
...
weiterlesen »
---
Interreg AT CZ SYM:BIO Project folder
---
Excursion multi-use Hedges on 05.05.2021
Hedges ensure that the fertile topsoil is protected from wind erosion and improve the microclimate. This is becoming increasingly important as an adaptation to climate change. They provide habitats for insects, birds and mammals and thus promote biodiversity and beneficial insects.
Multi-use hedges are created in such a way that they bring additional benefits to the
...
weiterlesen »
---
BIO Research Austria
Bio Research Austria invites you to upcoming (online)events as well as to the certificate course Soil Practitioner Arable Farming:
Start of the certificate course for soil practitioners in arable farming in Lower Austria in April 2021
Excursion multi-use hedges on Wed, 05.05.2021


Humus balancing for your own farm - Part 2
...
weiterlesen »
---
Archiv:
1
2
3
4
5
6
7
8
9
10
11
12
13
14
15
16
17
18
19
20
21
22
23
24
25
26
27
28
29
30
31
32
33
34
35
36
37
38
39
40
41
42
43